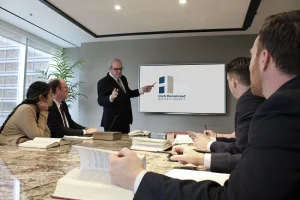 Since its establishment in 1858, the law firm of Inch Hammond* has continuously served the businesses of Hamilton and beyond, including the interests of national and international companies, with its legal acumen and sound advice.
Our firm is equally at home advising the entrepreneur embarking on their first venture or the board of directors of a leading corporation. In either case, we offer a personal approach, observe the highest of standards, and provide over a century and a half of expertise with an exclusive focus on all aspects of business law.
Inch Hammond is a law firm made of stone, rather than brick. We are a team comprising individuals with different legal strengths, expertise and interests, but who fit together all the better for it, as we each draw inspiration from the abilities of those around us. We encourage a problem-solving culture that affords opportunities to explore different viewpoints, obtain fresh insights, and undertake advanced legal analysis. It is said that we punch above our weight. We believe this to be correct.
*Incorporated as Inch Hammond Professional Corporation