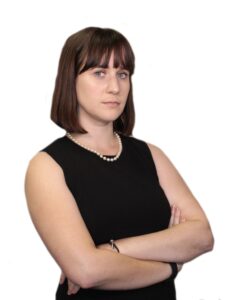 Zoe G. E. Kalakos (she/her)
Lawyer
Zoe is an associate lawyer at Inch Hammond, practicing predominantly civil litigation, corporate and commercial law and real estate law.
During her articles with Inch Hammond, Zoe has engaged with a variety of practice areas, ranging from bankruptcy and insolvency to defamation, and has recently expanded her practice to include real estate transactions. Zoe works both in and out of the Courtroom. She has engaged with senior litigation counsel at the firm on very complex and lengthy commercial and civil disputes, and also assisted with a variety of business matters, such as the formation, organization, and dissolution of corporations.  
Zoe received her J.D. from the University of Windsor, where she worked as a research assistant for a Constitutional Law professor. Prior to attending law school, Zoe graduated from McMaster University with an Honours B.A. 
Zoe is a highly focused lawyer who is always pushing herself to learn more about how different areas of the law interact in order to serve her clients competently, creatively and efficiently.